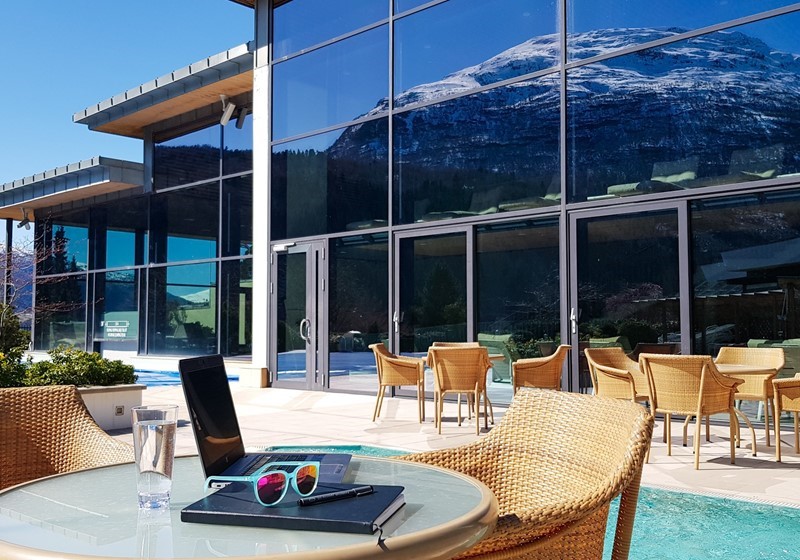 Do you need a break from your home office? Bring your job to Hotel Alexandra in Loen and feel refreshed and give your mind space. Work when you feel for it, relax when suitable. Get up for a fixed breakfast, work a while, enjoy our training facilities, a dip in the pool or a hike in the beautiful surroundings. Work some more, and then en joy a lovely dinner in our restaurant. Repeat. Come alone, or bring some others. 
"A workation is a vacation that allows you to work remotely while integrating elements of leisure that let you unwind, relax and be more productive" (HR Technologist)
Days can get long in your home office, so to keep your mood and motivation up, change of environment can be fruitful. New impressions, lots of space, fresh air and the magnificent playground right outside comfortable Hotel Alexandra. Maybe this is what you need right now?
This will be included in your workation
• Spacious room with desk, sofa group and balcony
• Dinner in the evening
• Breakfast until 10.30 am
• Alexandra Bath
• WiFi with good capacity
• Modern meeting facilities
• Training facilities
• Spinning Tuesdays (dependant on season)
• Entrance to activity department
• 10% discount on ticket for Loen Skylift 
• Bathrobe and slippers
• Free parking
Please contact us at tel +47 57 87 50 00 to book our workation offer, or send us a mail at alex@alexandra.no
Do you need a conference room?
We have a brand new conference department with large and small meeting rooms, and an extensive lounge area. You can rent one for free, and here you will find coffee and tea. 
Active timeout - indoors or outdoors
Loen and Stryn have something for every taste and fitness level: Loen Skylift, Via Ferrata, kayaking, SUP (yes we have dry suits too), ski touring, miles of cross-country trails, shopping and hiking trails to farms and other places down in the valley. Inside we have an activity department with billiards, shuffleboard etc., fitness room and of course our wonderful swimming department for long or short swims.
Alexandra Bath & Spa
Hotel Alexandra has a large swimming and spa area. In Alexandra Bath you can swim indoors or outdoors and enjoy hot tubs. At Alexandra Spa, our highly qualified therapists take care of you with a wide range of spa treatments. After a treatment, or by paying entrance, you also get access to the exclusive spa area with thylarium, saunas, whirlpool, cold pool and heated pool.

Stay the weekend too, and maybe bring a friend?
Bring your loved one or a friend, and stay over the weekend. Get in touch and we will give you a good offer. Travel to the mountains with Loen Skylift, and get a 10% discount on return tickets.