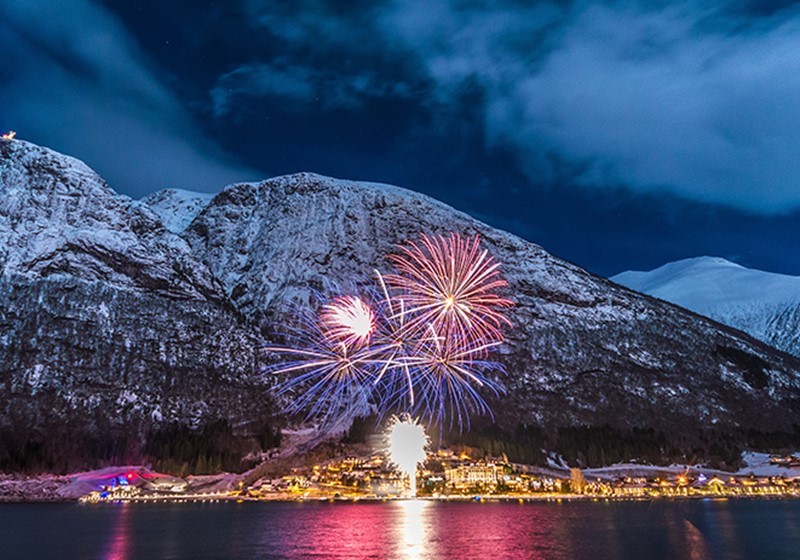 Gather family and friends for nice Christmas and New Year celebrations at Hotel Alexandra. The hotel is open from Thursday December 28th to Monday January 1st. Here you can enjoy good food, a pleasant relaxed atmosphere and activities for the whole family. Every evening there will be live music with pianist Anders Kvile and friends, and in Alex Dancing there will be party atmosphere. 
Pianist Anders Viktor Kvile and friends will entertain in Salong Ida
Anders Viktor Kvile is a recognized and versatile pianist from Gloppen, living in Stryn. This Christmas he invites his good friends to Salong Ida from 21:30 h to 24:00 h, and together they offer Christmas classics, feelgood pop and jazz. We promise you a good Christmas spirit and a warm atmosphere. Anders Viktor entertains solo in Salong Ida (grand piano) on December 28th. On December 29th and 30th he brings Emma Nygård Sætren (vocal), and on New Year's Eve, he invites both Emma and Johan Olav Nyberg (vocal and brass instruments). Anders Viktor will also play every evening from 18:00 to 19:00 h.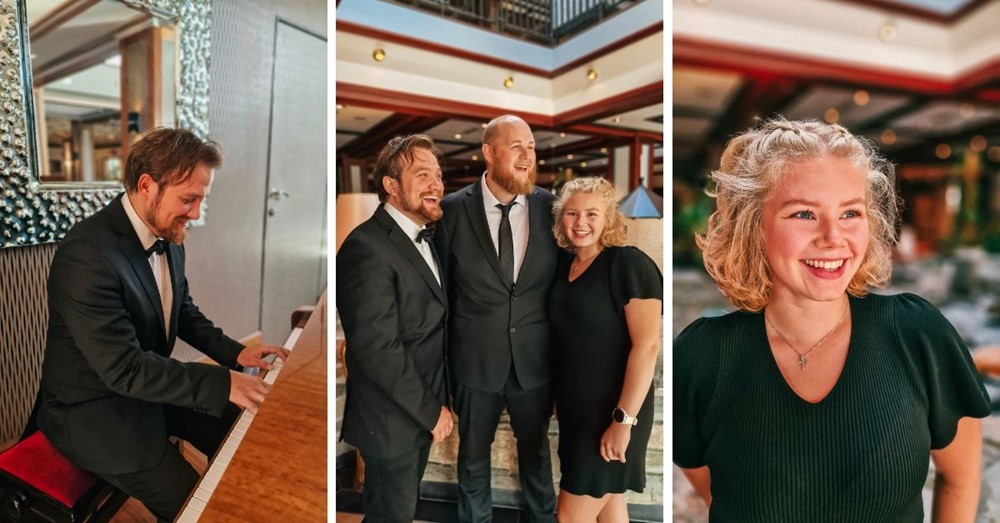 Party atmosphere with DJ in Alex Dancing every evening
Christmas for the youngest
Christmas is magical for the youngest, and that is also our aim at Hotel Alexandra. Every evening we invite to the children's disco in Alex Dancing, and the playroom and swimming pools are ready. Loen Play will also be open some days during Christmas. In our main restaurant, we will serve a special children's buffet every evening.  
Prices at Christmas and New Year's Eve
Examples (Dec. 28th / Dec. 29th or Dec. 30th)
Standard double room: NOK 1.750 per person 
Standard double room with fjord view: NOK 1.950 per person 
Superior double room: NOK 1.850 per person 
Superior double room with fjord view: NOK 2.050 per person 
DeLuxe double room: NOK 2.050 per person i dobbeltrom
DeLuxe double room with fjordview: NOK 2.250,- per person 
Prices include Christmas dinner and breakfast, and free entrance to Alexandra Bath.
For more prices and categories - please make a search on the right side of this page.
On December 28th and 29th we offer our large Christmas buffet also for our non-resident guests. Please make a table reservation by calling +47 57 87 50 00 or by sending an e-mail to alex@alexandra.no
New Year's celebration
On New Year's Eve we invite you to a large New Year's buffet including an aperifif. At midnight we send off our big fireworks display.Please note that only a minimum two-day stay is available in connection with New Year's Eve. Price example December 30th to January 1st: from NOK 4.400,- per person in double room (standard room) with dinner and breakfast. 
Three nights' stay
Stay from Friday, December 29th to Monday, January 1st, and get a discounted package price. Book via e-mail or phone. Price example: from NOK 5850 per person in a double room (standard room) with dinner and breakfast.
Activities during Christmas
Enjoy the last days of 2023 with refreshing outdoor activities. Loen Skylift is open daily from December 27th (see opening hours here). Enjoy lunch in Hoven Restaurant, and if the weather permits, you can go for a walk in the mountains - 1011 m.a.s.l. Loen Play will also be open on December 28th, 29th and 30th from 11 am - 7 pm, and New Years Eve from 11 am-5 pm. In case of cold weather, Loen Active will prepare the ice rink directly below the hotel. Inside the hotel, you can go swimming, play shuffleboard, and billiards, or make use of our well-equipped training facilities.