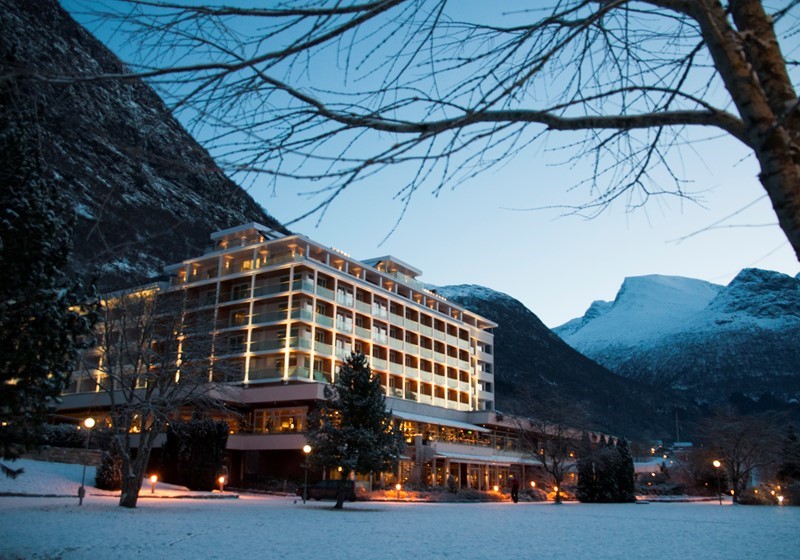 The time before Christmas is like a fairytale at Hotel Alexandra. Endless amounts of sparkling lights all over Loen, lit fireplaces, warm pools and a lovely decorated hotel make both your shoulders and heartrate lower when entering the hotel. Bring your family, colleagues or good friends and let us take care of the rest.   
Christmas buffets at Hotel Alexandra have long traditions, and every Friday and Saturday from November 11th to December 17th we invite you to a pre-Christmas stay. The buffet is filled with tasty Christmas dishes and other delicacies. From November 21st we offer Christmas dishes also midweek. You are welcome to enjoy an aperitif by the fireplace in Lounge Ida before dinner. 
Live music at weekends:
November 11th and 12th: "Stine Nilsen & Livin' West"
November 18th and 19th: "Backflash"
November 25th and 26th: "Listen to the band"
December 2nd and 3rd: "Cozy"
December 9th and 10th: "Backflash"
December 16th and 17th: "Cozy"

There will be Christmas-disco for children every Friday and Saturday from 19:30 h to 21:30 h in Alex Dancing.
Prices Friday-Sunday from NOK 4180,- per person in double room (standard room) with Christmas buffet, breakfast and entrance to Alexandra Bath. Spa treatments can be booked on beforehand. 
Would you like a special experience together with family or colleagues?
For groups of more than 20 persons we can recommend wine tasting or champagne tasting in Markus winecellar, tour of Loen with guide, or other activities. Please contact our salesdepartment and we will help you. 
Exciting activities for the whole family
Inside the hotel you will find a childrens' play room, activity department, several swimming pools, a gym (from 16 years) and a spa department (from 18 years). Outside we prepare the skating rink, so bring your skates and helmet if you like. Loen Active also offers skate rental. Ascend to the mountains with Loen Skylift and enjoy a delicious lunch in Hoven Restaurant. If you bring your children we recommend Loen Play. Go Christmas shopping in Stryn, hike to one of the cabins in the area or visit the Viking Age centre Sagastad at Nordfjordeid. 
Would you like a midweek stay?
From November 21st we offer Christmas dishes every day. Price from NOK 1645 per person in double room / NOK 2050 in single room with breakfast, dinner and entrance to Alexandra Bath. Please be in touch by email or phone for more information and booking. 
Christmas dinner or lunch at Hoven
For a lunch out of the ordinary we recommend a midweek Christmas lunch in Hoven Restaurant 1011 meters above sea level. Ticket with Loen Skylift and 3 course Christmas lunch is included. If you don't stay at the hotel and would like a Christmas dinner, we recommend Hoven Restaurant. The package includes ticket with Loen Skylift, a 3-course dinner in Hoven Restaurant and dance at Hotel Alexandra afterwards. (Fridays and Saturdays in the period from November 11th to December 17th).  
Christmas lunch buffet on Sundays
Welcome to a Christmas lunch buffet on Sundays before Christmas (November 20th and 27th, December 4th and 11th) from 13:30 h to 15:00 h. Read more